THE TRANSLATOR
Album Reviews
---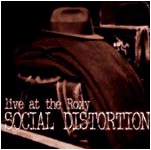 Social Distortion
"live at the Roxy"
Time Bomb Recordings
Its about time I got to hear Social D. play it live. I've never had the priviledge of seeing them live, but its always been something I wanted to experience. So now, finally, my wish has come true. And may I say that "live at the Roxy" was not a dissappointment.
Although the opening moments of the disc, documenting the sale of some tank-tops, gets tiresome; from the minute Mike Ness opens his mouth, things get better. The song list reads like a 'best of" album, but its all live. The best of both worlds. The opening track "Story of My Life" has worked its way into my favorite song list. Other highlights include the "Bad Luck," the cover of the Rolling Stones' (I think) song "Under My Thumb," the punk rock anthem "Telling Them," and a cover of "Ring of Fire." The only thing missing from this album is the classic "Sick Boy."
You can't call yourself a fan of old school punk without this album in your collection. Recorded over a three night span in April of 1998. This album is not for the sensitive listener though. Mike Ness is less than proper in his between-song-speeches. If that doesn't bother you, be sure to pick Social Distortion's "live at the Roxy."
-jordan


Craig's Brother
"Homecoming"
Tooth & Nail Records

Forget everything you ever thought about pop-punk! Tooth & Nail's Craig's Brother is everything pop-punk should be. This is a band that reallydeserves to be heard.
Musically, this band from Santa Cruz, California excels. Craig's Brother's potent formula for punk rock combines the energy and speed of a frantic little brother, aggressive three or four chord movements, and unique, emotional vocals enhanced by bang-on harmonies.
Challenging the stereotype, Craig's Brother offers lyrics that are about far more than girls, and bad rhymes. "In Memory Of" is a tribute to a friend who died young, but left a legacy of Christ-likeness; "Going Bling" addresses the ever present, never discussed issue of lust, and staring at women who exploit themselves in magazines; one of the singles, "Dear Charlotte" tells the story of a man who wishes for the 'good old days' back, but wishes all the blessings he has now away.
So, once again forget what you've past thought of pop-punk. Let Craig's Brother do the redefinig for you. If you were a fan of past pop-punk succusses like MxPx, Value Pac and Slick Shoes; put them behind you, and move on to Craig's Brother. Who the heck is Craig anyway!
-jordan
Viva Voce
"hooray for now"
Cadence

From the unchartered territory of Alabama comes the female led Viva Voce. Although nothing ground-breaking, Viva Voce brings their own flavor and style to the girl rock we've seen so much of recently.
I had the pleasure of seeing Viva Voce live at Tomfest, and was very impressed. The star of Viva Voce is the talented Anita Robinson. I've never seen a female rock so hard on a forty pound, solid maple Gibson Les Paul; but, as though to maintain her femininity, there are small dark roses airbrushed all over it. Her whispery vocals play nicely over either guitar effects or solid riffs and chords: reminiscent of a female version of Starflyer 59, sort of. Her husband, Kevin Robinson, plays solid on the drums, and also helps on guitar.
The first track, "He touches stars," features a very memorable, breathy chorus. Other noteworthy tunes include the worshipful "Heartstring" and "Closer Than Far," and the more joyful "Shining in my Shoes." Highlighting the album is "Fear of Flying," featuring a rad guitar riff: such a big sound for a petit, bashful girl from Alabama.
Although nothing revolutionary, "Hooray for Now" plays their brand of striaght-ahead rock very well, and with their own smart flavour. This album will make fans of the now deceased Hoi Polloi, Veruca Salt, Bon Voyage, and Starflyer 59 (with a girl's voice) very happy. If you like your rock to rock, than Viva Voce is for you.
---
Home
Info
Links
News
Reviews