THE TRANSLATOR
Interview with Puller

---
Q: Your label, Tooth and Nail Records, has called Puller simply rock and roll, while others have included descriptions like post-punk and emo. What genre do you consider Puller to be?

A: It does not even make a difference to me Genre are week anyway, we are simply a rock band, people sometimes take genre and use it as something to keep them from likeing different kinds of music , music is so great why would you want to limit yourself to one kind of music, it is better to be well rounded, I like Black Flag, and I can also Like Ben Harper, because I don't limit myself Musically.

Q: Before Puller, you were in a band called For Love Not Lisa. For those of us who don't know, what was For Love Not Lisa?

A: FLNL was and band on Atlantic we made two records "Merge and Information Superdriveway" we had a song on The Crow soundtrack, I quit the band on our fourth year together because it made music, a bad thing for me rather than an inhancement to my life.

Q: What caused the break-up of FLNL?

A: Each of the members were going in different directions, and it just wasn't good anymore, I started to hate music and I wanted to quit. Q: I heard that a couple of the guys from Puller were in a band called Clovis. Is that true and what happened to Clovis that caused the move to Puller?

A: Clovis and shrinker were Geoffs bands, and we played together often in Oklahoma.

Q: After FLNL and Clovis break ups, how did you guys find eachother to start Puller?

A: Goeff is the best drummer I know, he and is brother were alwasys roadies with FLNL so when I quit my very next call was to Geoff , and he said lets do it.

Q: On your first release "Sugarless" there were two members, Corey French and Ryan Jewell, who are no longer in the band. What happened to Ryan and Corey?

A: well ryan was very much younger than geoff and I , and he seem to have a hard time with touring a life on the road so we said he man maybe you should be doing other things, and corey quit so he could get his money thing in order he just wanted to do his own thing , Ithink geoff and I have been to serious for all the other people we played with. Q: How did you, Miles, Geoff and Dustin finally get together to form the Puller we know today?

A: My friend Clint mcbay(bass player from FLNL) filled in for ryan while we toured with MxPx, and we heard about this guy dustin, but at first because he never talked I was not sure if he was going to work, but he is so cool and eneded up being serious as us, and for miles it was just easy becuse he was the guitar player for FLNL so the move was an easy one Q: Your latest project, "Closer Than You Think," is out now on Tooth and Nail Records. Are you proud of this album?

A: this is the best record of my career, I love where the band is and where we are going the record to me is only the begining. Q: You hand make all your own guitars. How did you get started doing this, and how are you guitars different from one youcould buy in a store?

A: well i never was happy with the sound of all the brand guitars there was always something missing, basiclly my guitars are all guitars in one, I like the bodies of Fenders, like strats, and jag's, but the beefy pick ups of gibsons, and special lock downs for the strings so they stay in tune, because I play very hard. I hope to make my own brand of guitar and sell them in the future. Q: Of all the songs you've done with Puller, which are your favorites to play live?

A: well "shut off", "super size it" from sugarless and most all the new songs Q: It looks like Puller will be coming to Vancouver B.C. in early February for a show. This will be your second time here, do you look forward to coming back?

A: Oh yea, I love Canada ,and I love to play for people there, it seems that there is a better love for music and what we are doing, and very few american bands try to go there. Q: What do you like best about playing live and touring?

A: we are mainly a Live band, so touring and playing live is what we are all about, it's the interaction with people, records are harder in that there is no audience involved. Q: If you could have one wish come true for Puller and its members, what would it be?

A: For us to make a living at music , and not have to always worry about money..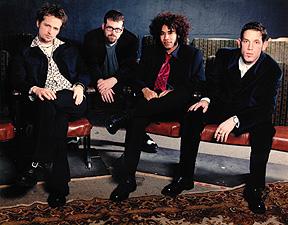 ---
Home
Info
Links
News
Reviews